Dock Repair in Wilmington NC
Is your dock or deck badly in need of some TLC? Has it received more than its fair share of weather-related damage over the last few years? At Logan Marine, we understand what mother nature can do to a floating dock, or a pier in Wilmington, NC. Consequently, our marine construction services include both the build and the repair of floating docks, gazebos, boat lifts, piers, and pilings. We reverse the damage done to the pilings and the support cables, in addition to the wear and tear on the dock platform and the decking boards.
Repair Process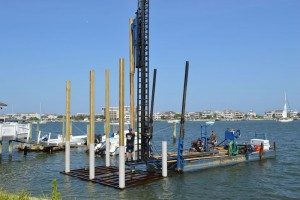 Before we start the repair process, however, we assess the extent of the damage to your structure, which includes checking below the water's surface to examine the condition of any submerged sections. If the pilings need replacing, we remove the deck or dock platform before driving the new pilings below the water and into the ground. Since loose foundation piles are one of the most common causes of structural failures, we use a marine pile driving barge to make sure your pilings are Dock Solid. While it's on dry land, we also make extensive repairs to the deck, which can suffer from the effects of dry rot and marine life.
Furthermore, we replace the bumpers and rails which may have deteriorated due to the sun and rust. Without maintenance, they cannot protect your boat properly. We also use PVC wraps to guard your pilings against rotting from worm infestation. When repairing your floating dock, we use materials such as 316 grade stainless steel screws instead of nails to make sure it can withstand the next big storm.
Marine Construction Made to Last
We not only build to last, but we do repairs to last as well. Whether you need help with your dock, pier, or bulkhead, we restore your marine construction project to its original glory by making it structurally sound. We want it both to look good and to function for many years to come.