About Logan Marine… Dock Solid.
Marine Projects Designed and Built to Last
---
Our Story, Mission and Values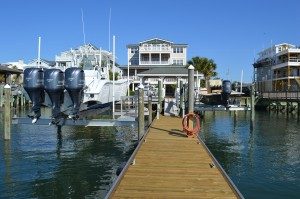 It is no secret that the weather in the Wilmington, NC region can wreak havoc on docks and piers. However, you shouldn't have to rebuild your dock every time there is a severe storm.
Our primary company goal is to design and build structurally sound marine projects that are pleasing to the eye and able to resist the severe weather that is so common in southeastern North Carolina.
Logan Marine provides marine construction services with a focus on: pile driving, bulkheads, floating docks, piers, gazebos and boat lifts.
David Logan started his building career as a carpenter's helper in the winter of 1996. Building custom homes in Wilmington, NC areas such as Landfall, Porters Neck, Figure Eight Island and Wrightsville Beach, he gained an eye for quality and an attention to detail that only this kind of experience can provide. In 2001, David started in business as a residential framing contractor and never looked back. With over 45,000 hours of experience he has accumulated skills and techniques in all different facets of construction including estimating, scheduling, purchasing, municipal requirements, site preparation, utilities, plot plans & surveying, footings, foundations, stick built framing, exquisite trim works & finishes, multi-million dollar project management and the list could go on. Building 100+ decks and docks, 200+ new homes , over 400 framing projects, and many other various projects… David Logan knows building, inside & out!
In 2013, out of a love for being on the water and a passion for building, he formed Logan Marine LLC to focus on marine construction projects including: pile driving, bulkheads, floating docks, piers, gazebos and boat lifts.
Our Mission:
Design and build structurally sound marine projects along the Coastal Waters of North & South Carolina that are pleasing to the eye able to resist severe weather. We will invest in quality people & quality equipment, delivering quality products in an efficient, timely fashion. We will be punctual, professional and embrace excellence in every endeavor.
Our Values:
Honesty and Integrity: Do the right thing because it's right.
Hard Work and Smart Work: Excellence will be rewarded.
Solutions and Results: Make it happen.
We realize what it takes to acquire your trust, what it takes to give you the results you demand and what's necessary to eliminate many of the headaches and frustrations that are peculiar to marine construction projects.
Thank you for your time, we look forward to working with you.
Looking for a professional marine contractor in the Wilmington area and like to schedule an onsite review of your project please call us at: 910.399.4859.
---
A Testimonial by Brian & Janice, Wilmington, North Carolina

We were thrilled to see our pier completely intact looking like new after the power washing by Hurricane Florence. The floating deck platforms gave just enough so the pilings were not driven up or dislodged during the lengthy pounding during the high tides. We had expected to return to find a pier with no deck and pilings going in different directions, facing an expensive rebuild as had been the experience of our two previous piers. All 470 feet of your pier held together just fine with no damage. All of the shingles on the 24' x 24' gazebo... Read More

Serving the Wilmington, NC Area including:
Atlantic Beach, Carolina Beach, Hampstead, Jacksonville, Little River, Oak Island, Ocean Isle Beach, Sneads Ferry, Swansboro, Topsail Beach, Wilmington, Wrightsville Beach, Southport
---
---