Marine Construction Company Wilmington NC
Marine Projects Built and Designed to Last
---
For Wilmington, NC Homeowners and Businesses Who Want Marine Construction Projects Designed and Built to Last, contact Logan Marine.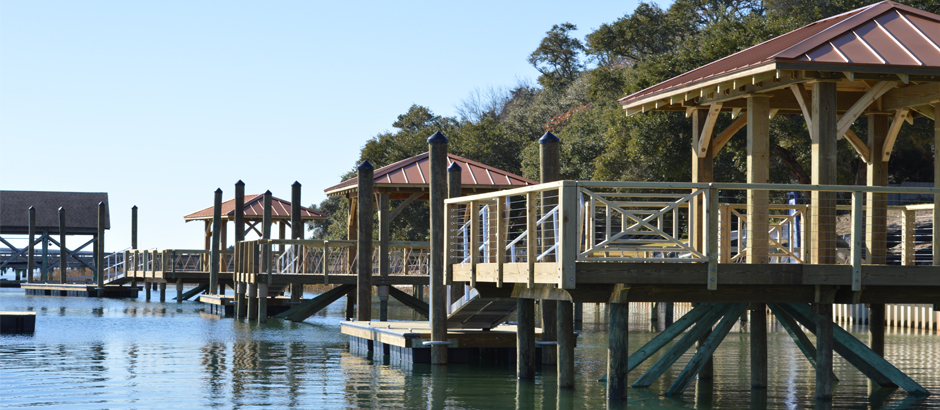 At Logan Marine, we offer both residential and commercial marine construction, specializing in the installation and repair of bulkheads, floating docks, piers, gazebos and boat lifts. Over the years, we have installed everything from personal docks to large-scale public marinas. As a result, we are familiar with all types of challenges such as shifting sands, warmer water, shallow water, living organisms, local regulations and many other elements.
We pride ourselves on structurally sound marine projects that are both aesthetically pleasing and capable of withstanding the difficult weather conditions that occur in Wilmington, North Carolina. Because Logan Marine uses only in-house employees for its structural work, we maintain quality control throughout our wide range of projects.
Although he started Logan Marine in 2013 as a way to combine his love for building and his passion for being on the water, David Logan has been in the building and construction business since 1996. Because he started out with custom home building, David learned about all aspects of the contracting business from estimating to surveying to project management. He now boasts over 200 homes built to go along with over 100 decks and docks.
Marine Construction Services
If you are looking for a marine construction contractor near you, please take a look at the different services we offer.
Floating Docks
We build and repair floating docks to last. Consequently, we use heavy timbers treated to AWPA standards and 316 grade stainless steel screws and NO NAILS. At Logan Marine, we construct our docks to your site requirements and your recreational needs. In addition, we take into account all kinds of situations from rivers to lakes to tidal changes.
Furthermore, our extensive knowledge of anchoring methods helps to ensure the integrity and the longevity of our floating docks. We want your floating dock to be just as sturdy when you pack up your canoe for the season as it was on the day of its launch.
Pile Driving
Driving pile around a shoreline always presents challenges, but, as an experienced deck installer, we understand these projects and how to complete them safely. For this reason, we employ a marine pile driving barge made from steel and engineered for the task of driving deep foundation piles. This ensures that your pilings won't sink when extra weight is applied, or your wooden pier won't float during heavy flooding or when waves roll in. Regardless of whether it's a commercial or residential structure, it's crucial to have the proper foundation.
Boat Lifts, Jet Ski Lifts, and Commercial Lifts
As the region's primary dealer for Golden Boat Lifts, we design lifts to suit your needs. Whether you need a Yacht Lift, Jet Ski Davit or a commercial lifting device, we assess your property in order to determine the best boat lift options for you.
Not only do we have the know-how to install the proper unit, but we service everything we build. So, you can rest assured that the marine construction company that installed your device will be there to repair it if you have any problems.
Docks & Piers
Whether you want your dock built with pilings from underwater or cantilevered from land, we can build a dock or pier to your specifications. As a dock installer, our goal is both to make it sturdy and to make it look good. As a result, we use only high-quality materials. We also take care of the important details such as the right wood preservatives, concealed girders, stainless steel fasteners and pre-drilled decking. In addition, we can add custom features to suit your individual needs such as special lighting, custom handrails, fish cleaning stations and more.
For those who want to add a gazebo to complete the look of their docking and entertainment facility, we can do that as well. Our objective is for your dock, pier or gazebo to survive the rigors of seasons and maintain its appearance for years to come.
Marine Construction Storm Repairs and Service
After an unexpectedly harsh winter or a major storm, docks and piers can take quite a beating. One of our specialties is dock repair services. If you suffered extensive damage to your dock due to a major storm or even deterioration due to neglect, you can rely on Logan Marine to get your docking facility back to working condition and looking as good as new.
If you are located in or near Wilmington, NC and are looking for a marine construction contractor in your area, contact Logan Marine for help with your boat lift, dock, pier or gazebo. Not only can we customize and install the docking facility you require, but, as a full-service deck and dock installer, we also offer repair services. Therefore, we can fix problems that arise long after installation.
At Logan Marine, we remove the hassle and frustration from marine construction projects, so you can get the most out of your new or repaired marine facility.

Serving the Wilmington, NC Area including:
Atlantic Beach, Carolina Beach, Hampstead, Jacksonville, Little River, Oak Island, Ocean Isle Beach, Sneads Ferry, Swansboro, Topsail Beach, Wilmington, Wrightsville Beach
---
---