How to Find the Top Marine Construction Company in NC
Marine Projects Designed and Built to Last
---
How to Find, Evaluate and Hire a Professional Marine Construction Contractor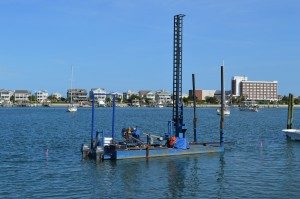 What is the Single Most Important Aspect of Any Marine Structure? Similar to a house, the structural integrity of any marine structure relies on a strong foundation.
When you hire Logan Marine, your foundation piles will be hammer driven with up to 10,000 ft/lbs. of energy in every blow, offering the most supportive AND held down installation available. In addition, we protect your timber piles against worm infestation.
These two methods alone will alleviate two leading causes of marine structure failures:
1) Loose Foundation Piles and 2) Worm Infested Foundation Piles.
It all Begins and Ends at the Foundation...... but we realize that's probably not enough to get your full buy in, so here's a few more key factors to consider before hiring a marine contractor:
12 Questions You Can Ask To Avoid Marine Construction Projects Filled With: Missed Deadlines, Surprise Price Increases and Sloppy Finish Work
Company Reputation and Business Practices
Are you currently licensed as a general contractor in the state of North Carolina?
Can you provide proof that you carry General Liability, Jones Act and USL&H government mandated Workers Comp Insurance?
Do you maintain business accounts with local suppliers and are those accounts in good standing?
How many client references will you be providing?
Materials and Installation Methods
What method do you use to install pilings?
How do you protect pilings against worm infestation?
What type of wood preservatives should be used for marine construction projects?
What type of fasteners do you normally use for framing and decking connections?
Experience, Service and Follow Through
Will you provide a detailed written bid with a price guarantee prior to starting?
Do you use employees or subcontractors to complete your installations? (Individuals that work by the hour should have taxes deducted from every paycheck. If not, they are considered a subcontractor.)
Will you provide approximate start and completion dates for my project?
Can you provide written proof or examples for all of your answers?
Once you ask these questions and review the answers, the quality contractors will stand out.
When we meet with you, we will be pleased to provide you with our answers to these questions along with a complete copy of our Buyer's Checklist, including a sample of the amount of detail included with every proposal.
Our clients know that hiring us means they are taking the risk out of the hiring decision.
If your bulkhead, floating dock, pier, gazebo or boat lift has taken a beating and needs to be replaced, give us a call today at 910.367.1348 .
We realize what it takes to acquire your trust, what it takes to give you the results you demand and what needs to be done to eliminate many of the headaches and frustrations people have with marine construction projects.
Logan Marine provides marine construction services with a focus on: pile driving, bulkheads, floating docks, piers, gazebos and boat lifts.
Our primary company goal is to design and build structurally sound marine projects that are pleasing to the eye and able to withstand the severe weather that is so common in southeastern North Carolina.
If you would like to schedule an onsite review of your project please call us today at 910.399.4859.
We appreciate this opportunity to earn your business.

Serving the Wilmington, NC Area including:
Atlantic Beach, Carolina Beach, Hampstead, Jacksonville, Little River, Oak Island, Ocean Isle Beach, Sneads Ferry, Swansboro, Topsail Beach, Wilmington, Wrightsville Beach
---
---